Create New File and Import Data (update method 2)
The conventional method of updating an engagement file to the new version of the template follows the Staff Update Guide ("update method 1").
However, there is another method available when the standard year-end close and roll forward is not an option or proves too cumbersome for some engagement files.
The
Create New File and Import Data
("update method 2") process allows you to quickly:
1.
Create a brand new engagement file utilising all the latest workpapers
2.
Import your data which includes the source file's:
Trial balance and assign mapping numbers




Consolidation structure (if required)


Identified Risks, Controls and Reportable Items

3. Perform a Year-end close to Roll forward the trial balance into the new year.
See table below to compare this method with the conventional "update method 1."

Step One: Creating new file
Within Working Papers:
File > New

Enter New File Name

Select Audit System

Choose Create and import data.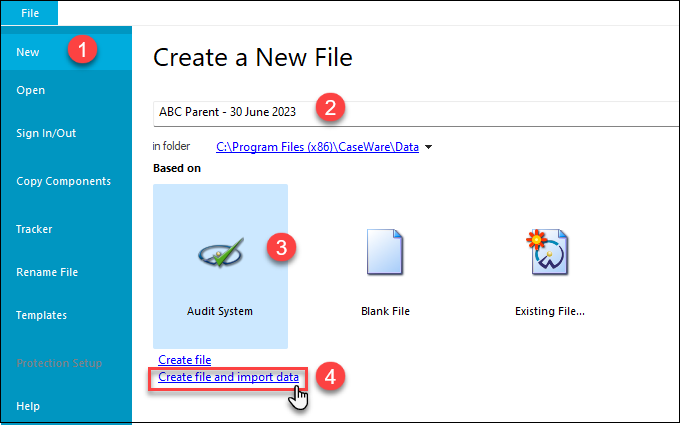 Step Two: Selecting the source file
In the dialog box that opens: choose to get client data from an existing file. Click Next.

Then browse for the existing file path. Click Next.

Hit Finish to complete the new file wizard.

Step Three: Performing a Year-End Close
After the files have been copied across, and the loading box has finished, you will be given an option to roll forward as shown below.


This step may take several minutes and may not be showing any dialog in the process.
Do not do anything else on your PC while your waiting as it may disrupt the process
Step Four: Selecting the appropriate Engagement Profile
Select the appropriate Engagement Profile and press OK.

Step Five: Copying in Financial Statements (optional)
Does your source file also contain financial statements?
If No, press No and jump to Step six.
If Yes, press Yes and follow the instructions below:


1.
Press
FSIFRS
on the Template Toolbar to open FSIFRS document.
2.
In the
Entity Information
ribbon ensure you adjust the following settings to match the source file's financials statements.

This is an important step to ensure nothing is lost from your FSIFRS when transferring it from the source file.
Presentation: Single entity or Consolidated

Entity type: Select entity type e.g. Large Pty Ltd (general purpose)


Areas required: Check the boxes consistent to source file


As soon as you press OK on the "Areas required" the financials will start to generate. You do not need the financials generated for this step to work.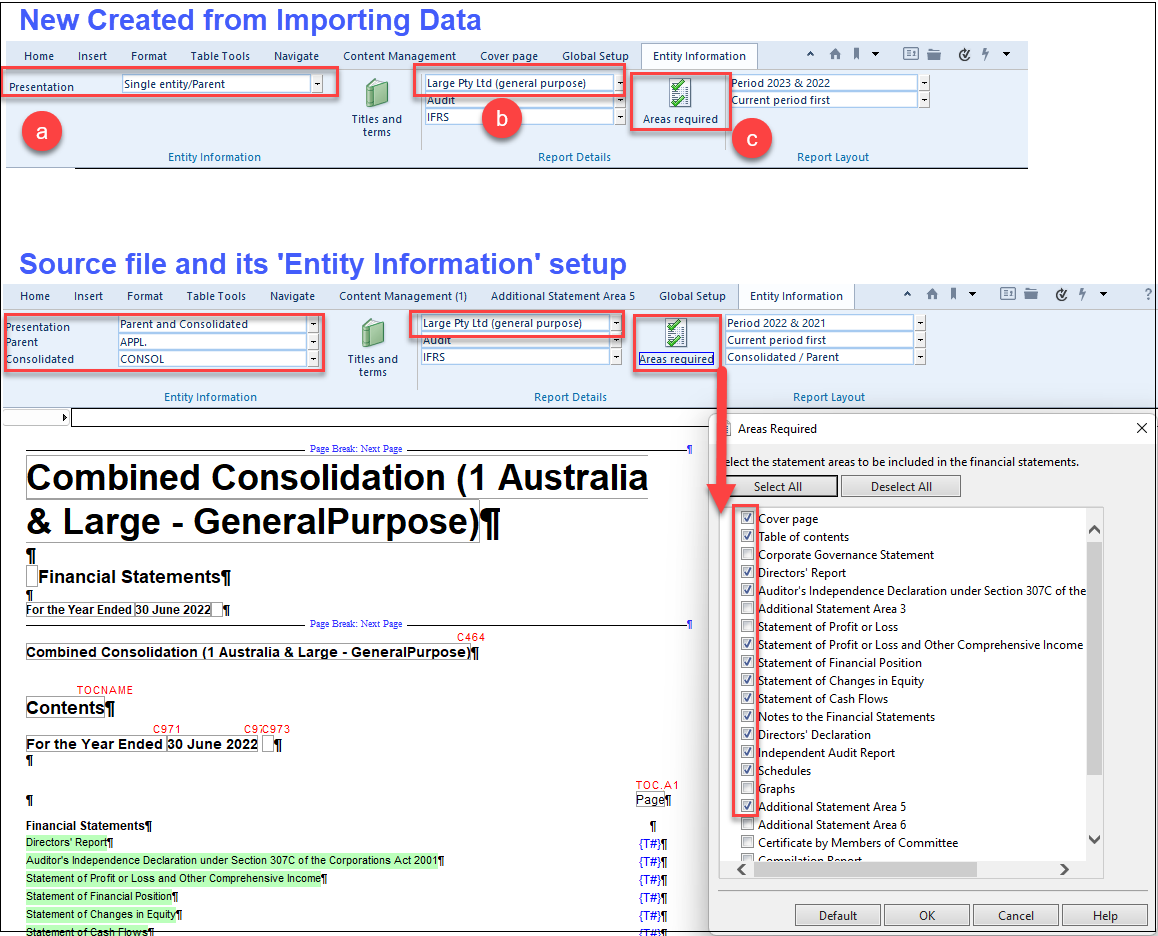 3.
Press
Cancel
on the "Generating financial statements" dialog.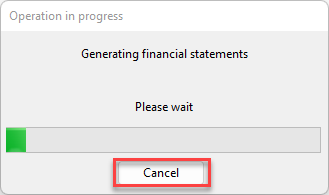 4.
Save and Close
both the
Source
and the
New File "
FSIFRS" documents

Make sure you are
saving
your changes.
CTRL S
is a sure way of doing this quickly
5.
From the 'Working Papers' ribbon, select
File | Copy Components
.
6.
Select
Copy Into This File
.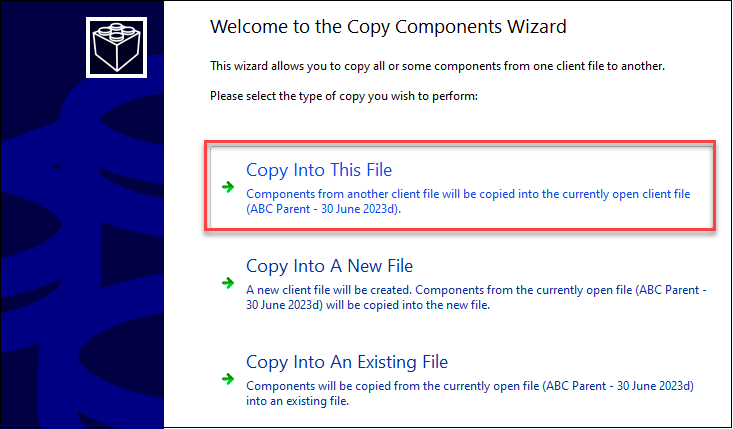 7.
Select
File
tab and browse for
Source File
. Press
Next
.
8.
In the
Copy Components
screen, choose:
Select Documents checkbox.

Press Deselect All button.

Select the Financial Reports folder which includes FSIFRS and other supporting documents.

Also select CV External Data checkbox.


Press Next.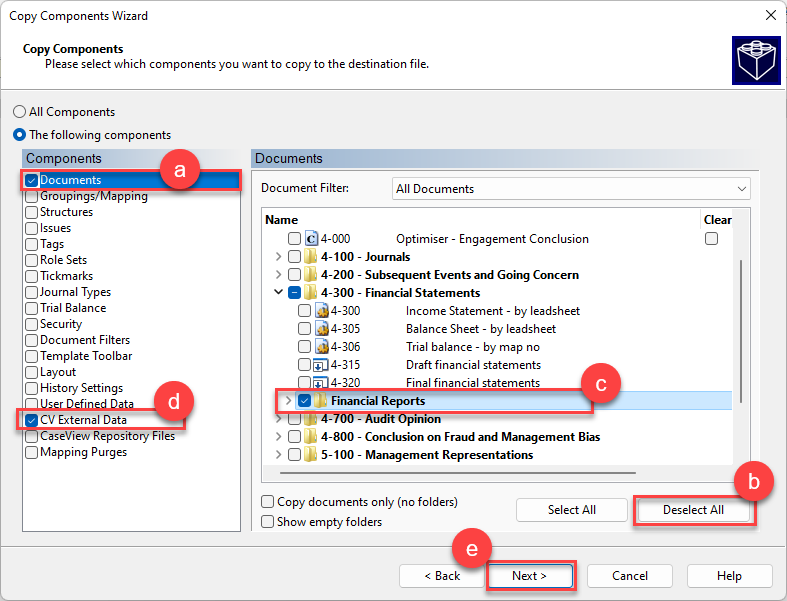 9.
Press
Next
for the "Clearing Components".
10.
Press
Finish
to bring in the Financial Statements.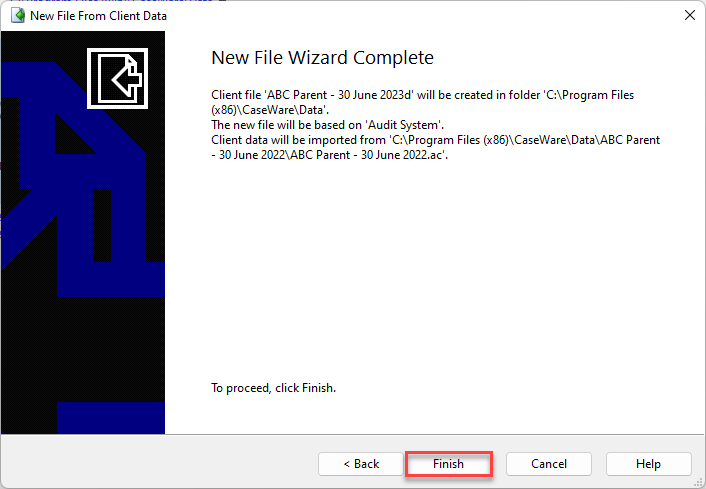 Step Six: Export any previous audit CV document to RTF
Any CaseView documents previously documented in the source file (e.g. Understanding the entity worksheets) should not be copied into the new file as CaseView documents.

Export these to RTF and add them in as external documents for reference. Please refer here for more information.
Related Articles

Staff update guide

Welcome to the Staff Update guide for the CaseWare Australia and New Zealand templates released in October 2023. Please download the Staff Update Guide Oct 2023 attached below to get a complete guide. The FAQ links below are also useful resources ...

What's New - Audit System

Audit System 25.00 - October 2023 The Audit System October 2023 (version 25.00) is a minor update. For information on specific workpapers review Audit System document and procedure updates. Any engagement file that has not yet been updated to Audit ...

Caseware 2022 Update Webinar

The following is a recording of our 2022 Caseware Update webinar, in which Tim Lew and Joe Nagy walk through what is included and how to correctly update your engagement files. The helpful slide deck is also attached below.

What's New in Agile Audit?

November 2023 This Major update includes: Enhancements: The new Planning balances feature allows you to record and track interim balances before the year end. You can now upload planning balances for current and prior years, review planning balances ...

Year-end close vs new file based on existing/Client data

Performing a Year-end close After completing the financial year, Working Papers provide a means to close a file to the next year. Working Papers rolls forward the current file's closing balance to create the opening balance for the new file. If ...