Copying CloudBridge into CaseWare Working Papers
Method 1:
Using
version Caseware Working Papers 2021 or newer.
In the CaseWare Working Papers file select the
Document
menu option, under
Edit
select
From Library.
Drag the CloudBridge document from the Document Library into the CaseWare Working Papers Document Manager and
Close
the Document Library dialogue.
To launch the CloudBridge by
double clicking
on the link in the document manager.
Method 2:
Using version Caseware Working Papers 2020 and below.
In the CaseWare Working Papers file select the Home menu option, select Link under the Insert section.
In the document properties, please copy the following settings:
Number: CLBG
Name: CloudBridge
File/URL: cw:program/scripts/cloudbridge/index.html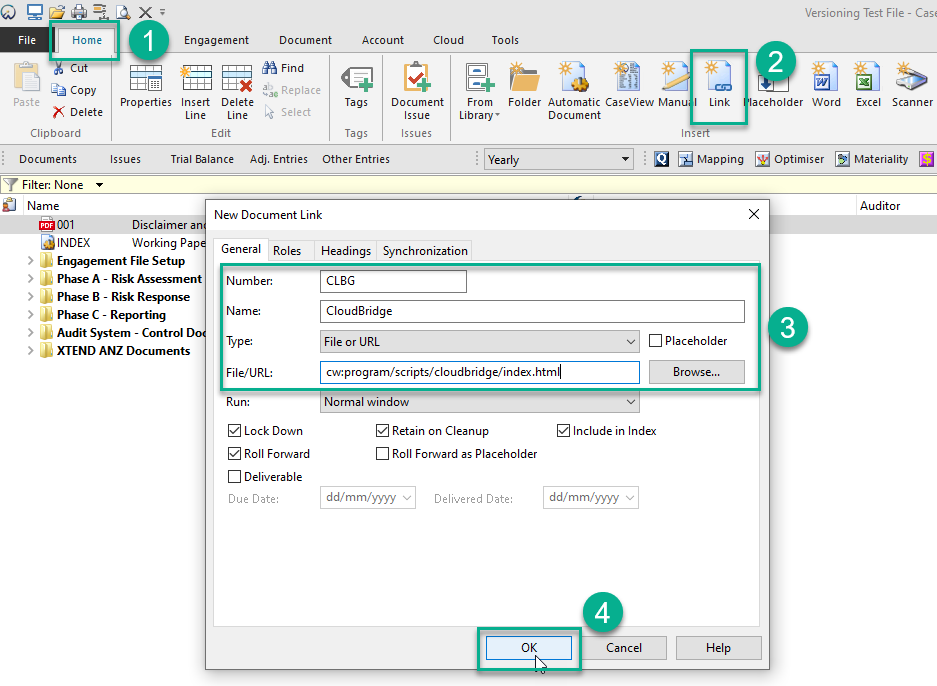 Launch CloudBridge by
double clicking
on the newly created
document
in the
Document Manager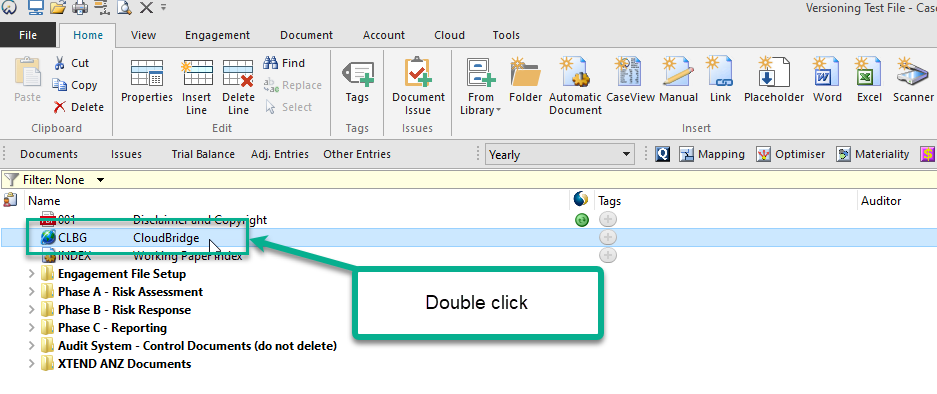 Related Articles

Importing CaseWare Working Papers Engagement Files to IDEA

To import the engagement files to IDEA: 1. Navigate to the Import option 2. Select Caseware Working papers as an option in the import assistant and click next 3. Click the browse button to select the Working Papers client file path 4. Select the ...

Working Remotely With CaseWare Working Papers and Audit System

CaseWare Cloud has been designed to support remote users, where users from the office and outside the office can collaborate effectively. If you are currently using CaseWare Cloud, then you are set to work remotely. What you will need to organise is ...

Download and installing the CloudBridge

In the Cloud Engagement file select Data / CaseWare Working Papers (else click here). Note: The current CloudBridge download is intended for users on Working Papers 2022. If using an older version, please contact us. For users of CaseWare Working ...

CloudBridge Getting Started 5: Customising CloudBridge to Suit Customised Mapping

Learn how to adjust CloudBridge to transfer any customised mapping you've done in your Caseware Working Papers file to your Cloud file.

Getting started with the CloudBridge

Prerequisites: Have access to the Firms Cloud instance and logged in. The Cloud engagement file has been created in a Client entity. Have a CaseWare Working Papers file with the CloudBridge in it. Steps Launch the CloudBridge by double clicking on ...