Cloud Financials Process Map
The Cloud Financials process map attached below
provides Caseware Cloud Financials users with an efficient and effective step-by-step approach to generating a set of financial statements
.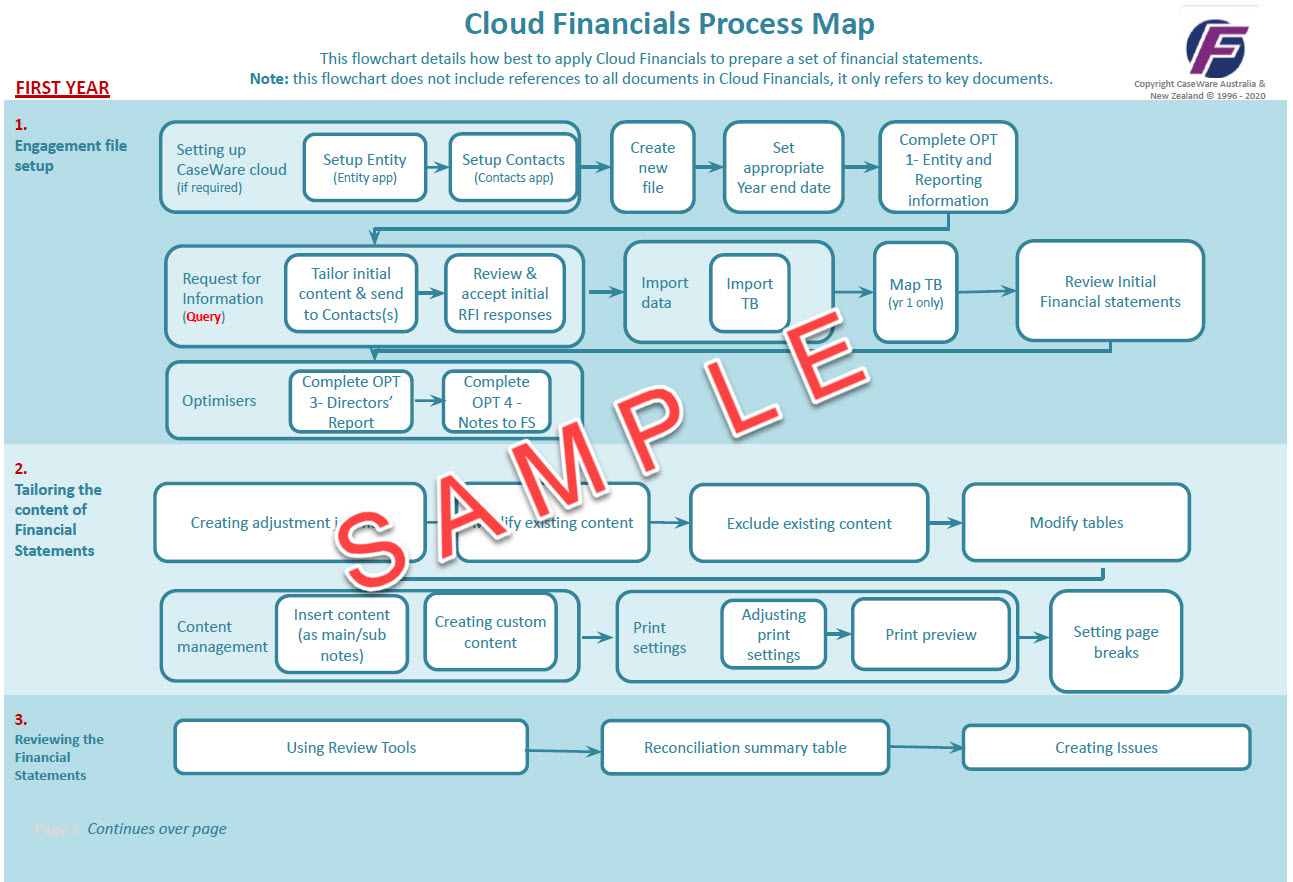 To go alongside the process map, we have a series of FAQs to provide details on parts of the process map. You can find the master list of them here:
Engagement File Setup:

Tailoring the Content of the Financial Statements:
Reviewing the Financial Statements:
Finalising the Financial Statements:

File Wrap Up:
Related Articles

Cloud Financials questions

Here are some questions that we have received in our launch webinar. General Questions What content is available in Cloud Financials? Currently, Cloud Financials supports the new AASB 1060, General Purpose and SDS content for: Companies - for profit ...

Agile Audit Process Map

The Agile Audit process map attached in this FAQ below illustrate the best methodology to use our CaseWare Agile Audit for an audit engagement. To go alongside the process map, a series of FAQs are below to provide details on parts of the process ...

Financials Template Process Map

The Financials Process Map (attached below) provides FinancialsIFRS users with an efficient and effective step-by-step approach to generating a set of financial statements in year one, and rolling forward and updating them in year two onwards.

Getting Started with Cloud Financials

Before following the steps below, please ensure that all relevant staff have the Financials app enabled within their cloud account. Step 1. Create a Cloud Financials engagement. Step 2. Complete the Entity and reporting information optimiser. Step 3. ...

Managing Note Content within Cloud Financials

Note content display within Cloud Financials The main note disclosures are grouped into the following categories: Balance Sheet Income Statement Other Notes that are linked to the two main statements, are set to only display if accounts are mapped to ...